How to recover the car radio Renault Clio, Twingo, Kangoo ...
Discover our partner
www.codrad.io
Here's how to find the car radio code of a Renault
The possible causes for having lost see car radio code are numerous. When replacing a fuse, you have disconnected your battery, the battery of your clio or scenic is dead, you have changed car radio ...
Wondering how to find the 4-digit code to enter the car radio to finally find the music. There are 3 possibilities:
Go to your garage or Renault dealership, the price will be 20 $ to 50 $
Have noted the code in the user manual of your vehicle
Use the free software below which with your precode will generate and retorve your lost car code
Which software to use for the code of a car radio Renault
For the diamond brand (Ranault) you do not even need the serial number of your post or car radio GPS.
Examples of serial numbers: RN481FX9180758, RN593FT4000589 and RN882FX5418745
Video to get the code auto
The steps to follow
To find the precode
Method 1 (without dismantling radio):
- Hold buttons 1 and 5 and switch on the radio, this will display the precode.
Method 2 (with disassembly):
- Remove the car radio from the dashboard.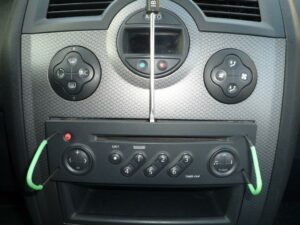 - The Precode can be found on a label on the back of the car radio.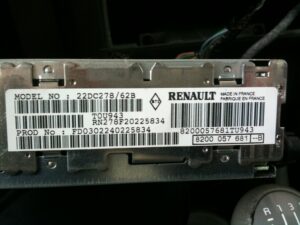 How to find the code of my car radio?
Find your precode via one of the previous methods
WARNING !! If your precode starts with a letter then the number 0 the generator does not work. You must post your precode by comment and I will answer you as soon as possible
Enter the Precode in the field below
Click on the "unlock" button to have your code
Enter the code in the car radio when you start
Confirm by pressing 1 and 6 on your radio
The range of cars of the Renault brand compatible
Si le générateur du code autoradio Renault ne fonctionne pas n'hésitez pas à poster un commentaire nous trouverons la solution rapidement
Merci de bien tester votre pre-code avant de poster un commentaire. Tous les precode pour debloquer votre radio composés d'une lettre et de 3 chiffres ne commencant pas par 0 doivent fonctionner avec le calculateur !!! Si je ne valide pas et ou ne répond pas à votre commentaire c'est que vous pouvez vous débrouiller seul avec le générateur. Merci de votre compréhension.
---
Example of the car radio code database Renault
| Precode | Code |
| --- | --- |
| A100 | 0070 |
| A101 | 0041 |
| A102 | 0012 |
| A103 | 0082 |
| S140 | 7874 |
| S141 | 7845 |
| S142 | 7816 |
| S143 | 7886 |
Renault Clio
Clio 1
Clio 2
Clio 3
clio 2 phase 2
Clio 1994
Clio 2001
Clio 2002
Clio Campus
Renault Twingo
Twingo 1
Twingo 2
Twingo 3
Twingo 1999
Twingo 2001
Twingo 2002
Renault Scenic
Scenic 1
Scenic 2
Scenic 3
Scenic 2000
Scenic 2004
Scenic 2006
Scenic 2007
Scenic phase 2
Scenic dci
Renault Kangoo
Kangoo 1
Kangoo 2
Kangoo 3
Kangoo 2001
Kangoo 2005
Kangoo 2009
Kangoo 2010
Kangoo 2011
Renault Megane
Megane 1
Megane 2
Megane 3
Megane 2004
Megane 2005
Megane RS
Megane 2 cabasse
Megane Scenic
Other less common models like Space, Safrane, Laguna, Spider, Master, Avantime, Traffic, VelSatis, Modus, Koleos, Fluence, Latitude, Wind, Talisman, Twizy, Zoe, Captur, Kadjar, Kaptur or Kwid can be compatible.
Is it possible to change the code of his car radio? No this one is original.
What is a car radio?
A car radio is equipment used to listen to music in a vehicle, occupying a significant place in car accessories. He is the ideal friend to accompany in all the journeys. If before, it was only a simple option for vehicle decoration, this component has been very useful for users so when you lost your Peugeot car radio code or Citroen car radio code or even its Ford car radio code is quickly panic. The choice of a car depends on several factors depending on the expectations and features of the vehicle. In order for this accessory to be truly functional and operate according to the expectations of its owner, the make and model of the vehicle must match.
The car radio, the essential equipment for a personalized car
There are several types of car radio, the most classic is the car radio GPS also known as Bluetooth car radio. In general, it provides a radio, a CD and DVD player and a Bluetooth system. There are also new generation car radios that have a touch screen, with the same functions of the car stereo Bluetooth, but more comfortable that gives the advantage of using a GPS. In addition, the car stereo dual DIN or 2 DIN is a model for motorists who want to afford the top, it can accommodate a screen up to 7 inches, plus it is composed of several functions as the kit free hand and back camera. The 3G function for a wifi is accessible for this type of car radio, so it is possible to surf the internet in the car. To simplify navigation, the driver assistance assistance provides a guidance voice and a menu in French.
A multifunction device
Thanks to the GPS system (Advanced Location System), whether for a clio, twingo or scenic, it is easier and more convenient to travel by car. The advantage is that this system gives the possibility to locate destinations and the fastest route to reach them by avoiding traffic. On top of that, it will be of great help when staying in an unfamiliar area, as GPS can locate hotels, restaurants, and places of interest for the owner.
High performance multimedia accessory
Equipped with an Android operating system, renault car radios are easier to handle and offer the possibility of acquiring several very interesting applications. They offer very good quality images, without any grain or interference so that the owner can enjoy his videos on DVD anywhere. The sound quality, which is the most important, is especially good for listening to your favorite songs, favorite shows or other programs. For the safety of cars often parked in public places, it is recommended to have a car radio with a removable front. This will serve to limit the risk of break-in. Accompanied by a carrying case, it guarantees the equipment durability and shock protection.
Practical and useful technical object
These car radios facilitate communication. The handling of these gadgets is very convenient, without the eyes of the driver are all the time on the remote control. Thanks to a simplified grip, they guarantee safety and comfort for motorists. In case of failure of the renault clio, twingo or scenic car battery, the car radio may request a renault car radio code or a PIN code for it to work again. To find your car radio code, you have to download car radio code software and follow some instructions. It should be noted that if the car battery is disconnected or discharged, a renault car radio code will be requested . Only suitable car radio code software can find the car radio code and operate the vehicle's device to fully enjoy its qualities. In some cases, the car radio code can be found in a small user manual of the vehicle, it is located just after the CAR designation and is composed of 4 digits.
« Previous
1
…
4
5
6