Description
Authentication code car radio Renault with Gps navigation
VIN  : VF12RAU1C56477160 Code : 9402
RENAULT CLIO VIN Vf15r0j0a58706075 Code = 4683
RENAULT TRAFIC VIN vf1flbha68y271946 Code = 6397
RENAULT DACIA VIN UU1HSDJ9F57755551 Code = 1116
RENAULT CAPTUR VIN Vf12raj1a54576127 Code = 0985
RENAULT CLIO VIN vf15RSN0A54278485 Code = 3401
RENAULT LAGUNA VIN vf1ktem0639442040 Code = 1450
RENAULT CAPTUR VIN Vf12r031a60816424 Code = 3464
RENAULT CAPTUR VIN Vf12rel1e51039107 Code = 2880
RENAULT SCENIC VIN vf1jmgkd640619877 Code = 9669
RENAULT CLIO VIN Vf15r0g0h52441921 Code = 1004
RENAULT CAPTUR VIN VF12RAJ1A53738674 Code = 3835
How to find the serial number (VIN) of a Renault vehicle to unlock its car radio?
On your car registration card
Open your car registration and find the letter E
This is where you will find your VIN (Vehicle Identification Number).
If you don't have your registration certificate with you, the VIN is also written on the chassis of the car or on a label in the door.
All VINs are 17 characters long (e.g. VF12RAU1C56477160) and Renault VINs always start with VF1!
Pictures of Renault VIN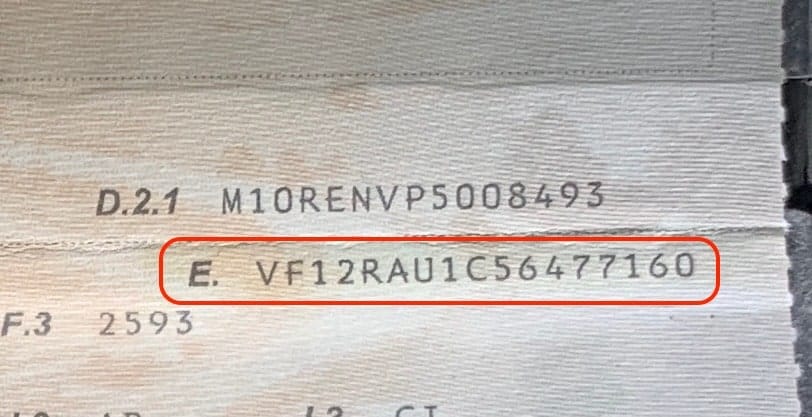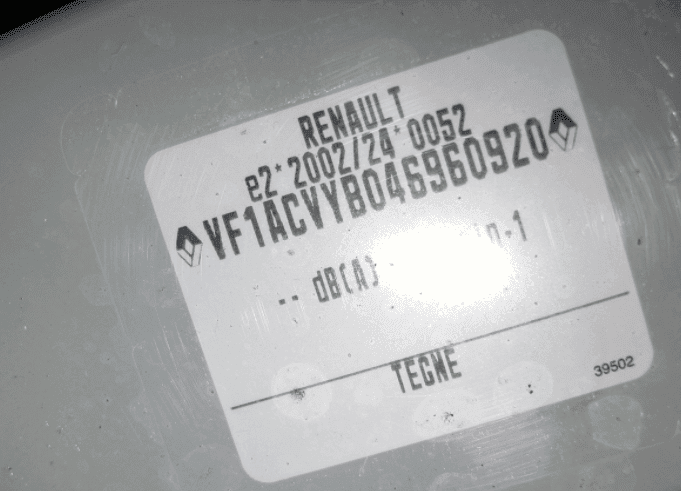 How do I enter the authentication code provided in my Renault car radio?
When you receive our email or sms with your code, enter it then validate by pressing ok.
Turn on the ignition.
The display should read "Authentication code" or "Invalid PIN, system is locked, please wait…" with a time to wait.
Press the buttons on the screen to enter the car radio code of your Renault.
Press ok to validate the code.
Video to find Renault radio code with VIN
How does decoding work?
We provide original factory car radio codes from the vehicle's vin or serial number for all Renault car models with an original car radio.
1st service in France to provide you immediately your code to unlock your Renault radio without precode.
Renault radio codes are sent 24 hours a day, 7 days a week. We unlock all Renault, AUDI, VW cars, Ford, Nissan you will receive the code after purchase by email or sms. We guarantee the decoding of your radio, that's why we offer a 100% money back guarantee if the code does not work!
| Car radio model | VIN number | Radio Code |
| --- | --- | --- |
| RENAULT CLIO VIN | VF15RRLOH48490945 | Code = 5103 |
| RENAULT CAPTUR VIN | VF1R8700063748195 | Code = 2524 |
| RENAULT DACIA VIN | UU1HSDADF51087980 | Code = 6104 |
| RENAULT TRAFIC VIN | VF1JL000857167988 | Code = 5645 |
| RENAULT CAPTUR VIN | VF12R5A1H50385425 | Code = 3978 |
| RENAULT CLIO VIN | VF17R040H48446140 | Code = 0184 |
| RENAULT CAPTUR VIN | VF12R5A1H52492316 | Code = 0063 |
| RENAULT TRAFIC VIN | Vf11fl10254511603 | Cde = 2989 |
| RENAULT CLIO VIN | VF15RRLOH48159908 | Code = 0327 |
| RENAULT CAPTUR VIN | VF1R8700960895116 | Code = 0085 |
| RENAULT DACIA VIN | UU1HSDAC647377711 | Code = 0385 |
| RENAULT CAPTUR VIN | VF12RAJ1A55931042 | Code = 5966 |
| RENAULT TRAFIC VIN | VF12FL10253733774 | Code = 4784 |
| RENAULT CLIO VIN | VF15RB20A54728504 | Code = 3091 |
| RENAULT DACIA VIN | Uu1Hsda2650427303 | Code = 2524 |
| RENAULT TRAFIC VIN | Vf12jl21852872310 | Code = 0764 |
| RENAULT CAPTUR VIN | VF12RAJ1A54692718 | Code = 4112 |
| RENAULT CLIO VIN | VF15RSN0A55307499 | Code = 8414 |
| RENAULT CAPTUR VIN | VF12RFL1H52911495 | Code = 0798 |
| RENAULT TRAFIC VIN | VF1JL000159835067 | Code = 1914 |
| RENAULT MASTER VIN | VF1MA000261767560 | Code = 3599 |
| RENAULT CAPTUR VIN | Vf12rel1e49830142 | Code = 4786 |
| RENAULT DACIA VIN | uu15sde3354623035 | Code = 0732 |
| RENAULT VIN | VF6VG000363328840 | Code = 1613 |
| RENAULT CAPTUR VIN | Vf12rfl1h53407330 | Code = 4612 |
| RENAULT DACIA VIN | Uu1hSdj9g57022981 | Code = 0617 |
| RENAULT TRAFIC VIN | VF1fl000565742115 | Code = 0766 |
| RENAULT DACIA VIN | UU1HSDA2652892034 | Code = 4408 |
| RENAULT VIN | VF1AGVYA050946169 | Code = 3166 |
| RENAULT CAPTUR VIN | VF12RA11A54562384 | Code = 5646 |
| RENAULT VIN | vf1kwobb538992304 | Code = 3818 |
| RENAULT VIN | Vf1fl000857822642 | Code = 3925 |
| RENAULT CLIO VIN | VF15RB20A60049733 | Code = 3994 |
| RENAULT MASTER VIN | VF1VB000X62064431 | Code = 5122 |
| RENAULT TRAFIC VIN | VF1FL000158975745 | Code = 1969 |
| RENAULT TRAFIC VIN | VF11FL00254511521 | Code = 0932 |
| RENAULT DACIA VIN | Uu1ksdow543836203 | Code = 0775 |
| RENAULT CAPTUR VIN | Vf12rel1e51539062 | Code = 7008 |
| RENAULT CAPTUR VIN | VF12RFL1H49686121 | Code = 0292 |
| RENAULT CLIO VIN | VF15RBF0A59353507 | Code = 1810 |
| RENAULT VIN | VF1BA040519968084 | Code = 5723 |
| RENAULT CAPTUR VIN | VF12R5A1H49912642 | Code = 0482 |
| RENAULT CAPTUR VIN | VF12RFL1H49502721 | Code = 1485 |
| RENAULT VIN | UU10SDCLG53149715 | Code = 1944 |
| RENAULT DACIA VIN | Uu15sdcjc54511506 | Code = 8358 |
| RENAULT CAPTUR VIN | Vf12raj1a55347522 | Code = 2241 |
| RENAULT VIN | VF12R401E51043529 | Code = 1191 |
| RENAULT VIN | VF1MA000757496460 | Code = 1140 |
| RENAULT DACIA VIN | UU17SDCL551192362 | Code = 2871 |
| RENAULT VIN | VF15R0J0A56747099 | Code = 3914 |
| RENAULT TRAFIC VIN | VF12FL10253396732 | Code = 0431 |
| RENAULT DACIA VIN | UU17SDAA551145110 | Code = 3793 |
| RENAULT MASTER VIN | VF1MA000467010074 | Code = 8305 |
| RENAULT DACIA VIN | UU1HSDADG50367317 | Code = 7316 |
| RENAULT CLIO VIN | Vf15r220a56240219 | Code = 3379 |
| RENAULT CAPTUR VIN | VF12R031658403951 | Code = 0930 |
| RENAULT CAPTUR VIN | VF12RFL1H49184738 | Code = 9426 |
| RENAULT CAPTUR VIN | VF12RAU1D55943648 | Code = 5224 |
| RENAULT DACIA VIN | UU15SDL1C58283220 | Code = 0463 |
| RENAULT TRAFIC VIN | Vf1jl000356995811 | Code = 8103 |
| RENAULT TWINGO VIN | VF1CNE30546218426 | Code = 0632 |
| RENAULT CLIO VIN | VF15Rfloh50863088 | Code = 1593 |
| RENAULT CLIO VIN | Vf1br1foh38858967 | Code = 7538 |
| RENAULT TRAFIC VIN | VF13FL00253167927 | Code = 0927 |
| RENAULT CLIO VIN | VF15R040H48313924 | Code = 1966 |
| RENAULT CLIO VIN | VF15RJL0H50684260 | Code = 0584 |
| RENAULT CAPTUR VIN | VF12RFL1H52306136 | Code = 0774 |
| RENAULT CAPTUR VIN | VF12RAJID53735639 | Code = 3749 |
| RENAULT CLIO VIN | VF15RSN0A54329583 | Code = 0581 |
| RENAULT CLIO VIN | VF15RSN0A55833354 | Code = 1313 |
| RENAULT CAPTUR VIN | V F 1 R 8 7 0 0 6 6 2 8 7 2 7 3 6 | Code = 4543 |
| RENAULT CLIO VIN | VF15RJL0H49730022 | Code = 6486 |
| RENAULT ESPACE VIN | VF1JK1JCC44723102 | Code = 1776 |
| RENAULT CLIO VIN | Vf15R5Aoh51630915 | Code = 0443 |
| RENAULT TRAFIC VIN | VF1FL000756776288 | Code = 2519 |
| RENAULT DACIA VIN | UU1HSDADF52050967 | Code = 5153 |
| RENAULT CAPTUR VIN | Vf1r8700264626965 | Code = 0446 |
| RENAULT CLIO VIN | VF15R040H50248050 | Code = 5044 |
| RENAULT DACIA VIN | VF1HJD40460479290 | Code = 4365 |
| RENAULT CLIO VIN | VF15R3LOH53327799 | Code = 6985 |
| RENAULT DACIA VIN | UU1JSDB0549880461 | Code = 7442 |
| RENAULT KANGOO VIN | vf1fw0zbc49604772 | Code = 3622 |
| RENAULT CAPTUR VIN | VF12RFL1H50575585 | Code = 3718 |
| RENAULT CLIO V EASY LINK 7″ VIN | VF1RJAOO767662666 | code = 2656 |
| RENAULT CAPTUR VIN | VF12RFL1H52695346 | Code = 0076 |
| RENAULT CLIO VIN | VF1R9800261450083 | Code = 1275 |
| RENAULT CLIO VIN | VF15RBF0A59168144 | Code = 1597 |
| RENAULT CLIO VIN | VF15RJL0H52687751 | Code = 4118 |
| RENAULT CAPTUR VIN | VF12RFL1H49047366 | Code = 4976 |
| RENAULT DACIA VIN | UU1HSDCL652736385 | Code = 2565 |
| RENAULT CAPTUR VIN | VF12R5A1H51480112 | Code = 3431 |
| RENAULT DACIA VIN | UU15SDAAC53294577 | Code = 6172 |
| RENAULT CAPTUR VIN | VF12R5A1H49169374 | Code = 4627 |
| RENAULT TRAFIC VIN | VF1FL000859203463 | Code = 0280 |